Roxane Gay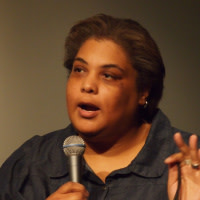 author : Roxane Gay
View more >>
Roxane Gay Book Series
Bad Feminist
One of our most indispensable writers . . . on everything that matters
Views: 68
The Best American Short Stories 2018
Best-selling, award-winning, pop culture powerhouse Roxane Gay guest edits this year's Best American Short Stories, the premier annual showcase for the country's finest short fiction.
Views: 64
Bad Feminist: Essays
New York Times BestsellerA collection of essays spanning politics, criticism, and feminism from one of the most-watched young cultural observers of her generation, Roxane Gay."Pink is my favorite color. I used to say my favorite color was black to be cool, but it is pink—all shades of pink. If I have an accessory, it is probably pink. I read Vogue, and I'm not doing it ironically, though it might seem that way. I once live-tweeted the September issue."In these funny and insightful essays, Roxane Gay takes us through the journey of her evolution as a woman (Sweet Valley High) of color (The Help) while also taking readers on a ride through culture of the last few years (Girls, Django in Chains) and commenting on the state of feminism today (abortion, Chris Brown). The portrait that emerges is not only one of an incredibly insightful woman continually growing to understand herself and our society, but also one of our culture.Bad Feminist is a sharp, funny, and spot-on look at the ways in which the culture we consume becomes who we are, and an inspiring call-to-arms of all the ways we still need to do better.**
Views: 48
Ayiti
From New York Times -bestselling powerhouse Roxane Gay, Ayiti is a powerful collection exploring the Haitian diaspora experience. Originally published by a small press, this Grove Press paperback will make Gay's debut widely available for the first time, including several new stories. In Ayiti, a married couple seeking boat passage to America prepares to leave their homeland. A young woman procures a voodoo love potion to ensnare a childhood classmate. A mother takes a foreign soldier into her home as a boarder, and into her bed. And a woman conceives a daughter on the bank of a river while fleeing a horrific massacre, a daughter who later moves to America for a new life but is perpetually haunted by the mysterious scent of blood. These early stories showcase Gay's prowess as one of the voices of our age" (National Post, Canada).
Views: 46
Difficult Women
Award-winning author and powerhouse talent Roxane Gay burst onto the scene with An Untamed State and the New York Times bestselling essay collection Bad Feminist (Harper Perennial). Gay returns with Difficult Women, a collection of stories of rare force and beauty, of hardscrabble lives, passionate loves, and quirky and vexed human connection.The women in these stories live lives of privilege and of poverty, are in marriages both loving and haunted by past crimes or emotional blackmail. A pair of sisters, grown now, have been inseparable ever since they were abducted together as children, and must negotiate the elder sister's marriage. A woman married to a twin pretends not to realize when her husband and his brother impersonate each other. A stripper putting herself through college fends off the advances of an overzealous customer. A black engineer moves to Upper Michigan for a job and faces the malign curiosity of her colleagues and the...
Views: 31
Hunger
From the New York Times bestselling author of Bad Feminist: a searingly honest memoir of food, weight, self-image, and learning how to feed your hunger while taking care of yourself."I ate and ate and ate in the hopes that if I made myself big, my body would be safe. I buried the girl I was because she ran into all kinds of trouble. I tried to erase every memory of her, but she is still there, somewhere. . . . I was trapped in my body, one that I barely recognized or understood, but at least I was safe."In her phenomenally popular essays and long-running Tumblr blog, Roxane Gay has written with intimacy and sensitivity about food and body, using her own emotional and psychological struggles as a means of exploring our shared anxieties over pleasure, consumption, appearance, and health. As a woman who describes her own body as "wildly undisciplined," Roxane understands the tension between desire and denial, between self-comfort and self-care. In Hunger, she...
Views: 11